Ready to rock day 19? Today it's Happy For No Reason by Marci Shimoff.
I adore Marci Shimoff. Just being around her makes you happy. I've had the pleasure of sharing the stage with her at a number of speaking events and seeing her speak. She's one lady who totally rocks the stage and wows the audience. So I'm happy to see Brian select her book for PhilosophersNotes.
On to the note…!
Happy For No Reason

by Marci Shimoff
"Happy for No Reason isn't elation, euphoria, mood spikes or peak experiences that don't last. It doesn't mean grinning like a fool 24/7 or experiencing a superficial high. Happy for No Reason isn't an emotion. In fact, when you are Happy for No Reason, you can have any emotion—including sadness, fear, anger, or hurt—but you still experience that underlying state of peace and well-being… When you're Happy for No Reason, you bring happiness to your outer experiences rather than trying to extract happiness from them. You don't need to manipulate the world around you to try to make yourself happy. You live from happiness, rather than for happiness."
~ Marci Shimoff from Happy for No Reason
Words from Brian:
Wouldn't you love to be "Happy for No Reason"?!?

Me, too. :)

Marci Shimoff came up with the idea for Chicken Soup for the Woman's Soul and in this book she weaves together some of the best Ideas from the Positive Psychology movement with Chicken Soup for the Soul-like stories from what she calls the "Happy 100," ranging from peeps like Elizabeth Gilbert (who wrote Eat Pray Love) to Michael Bernard Beckwith (founder of Agape Spiritual Center and star of The Secret).

It's a fun read and packed with goodness. We're barely going to scratch the surface of all the book's mojo as we learn how to build habits in all aspects of our lives to truly be "Happy for No Reason."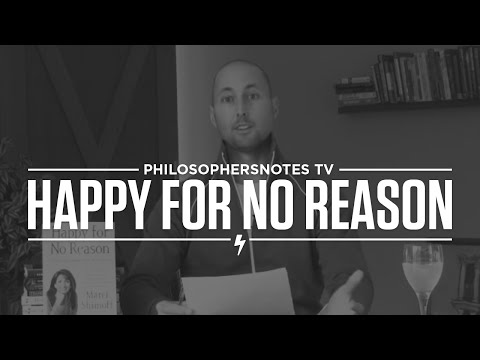 Great book and an awesome read. If you want to read more reviews, check out its Amazon page >>
And as always, what's your BIGGEST Aha! moment from this Note and how are you going to implement the wisdom from today into your life? Drop a comment and let the discussions roll!
And twitter users, don't forget the #50days :)Also, because lots of people are joining in on the Challenge a few days late and in case you miss a day or two, check out this page >> We've listed every Note that will be discussed (on which day) along with links to the discussion posts.